"Thank you so much again for the palm reading last night. You really hit every aspect of who I am, and I'm a very complex person, so I was very impressed and a bit shocked at how our hands really show who we are, where we have been, and possibly where we are headed. You did a great job!"
~ Nikki C. (in person session 2017)
"I really enjoyed my reading with Patti! It is amazing how much she could tell me about me from my palm. Patti was spot on! My reading with her gave me better understanding about where I am now, where I am coming from, and where I'm going. She really knows her stuff!!! Thank you Patti! I would highly recommend you to everyone!"

~ Heather R. (internet session 2015)
"Thank you so much for the palm and tarot reading Saturday. It was very enlightening and it is helping me move forward!!! The realizations are still coming in! I very much appreciated your wonderful style of reading and the wisdom you hold in the palmistry/hand analysis and tarot fields. It's like the time in our session gave distinct points in time for me to look back, look at now, and look forward...somehow helped put things in perspective. I still have lots of work to do, but feel more confident in myself and my ability to start planning and making some changes. In essence, I feel less stuck and ready to start moving again!"
~ Lisa C. (in person session, 2010)
"You more than played a role... I mean, that day was a pivotal change for me. I went from being afraid to fulfill my destiny to fulfilling it. I was raised pretty strictly in the church and that was my block... but I knew that Reiki was my calling. I remember, I didn't say anything to you about what I wanted to find out and when you read my cards, they were all major arcana but two. You said I was trying to make a major decision. And then at the end, you gave me the magazines you had brought and in one I found my teacher... on her blog, she had written about Henry David Thoreau who is my favorite author -- so I knew she was the teacher for me. Thank you for doing what you do. You helped me have the courage to change my career and my life. "
~ Kelly B. (in person session, 2013)
"Quite a few years ago I attended a lecture that Patti Lightflower gave on Palmistry. I was impressed with her indepth scientific knowledge and her ability to weave this with intuition. Meeting up with her again and receiving a reading recently was quite an opening and affirming experience. She was able to see 'timelines' in my hand, outlines of what had been that were very accurate, and she also suggested what she saw in the present into the future something I also feel. What she shared gave me great hope as well as served to re-bolster faith in my own feelings as an inner compass. She shared much more of value, too. I am amazed at her ability and very grateful for the experience!"
~ Sarah G. (in person session, 2015)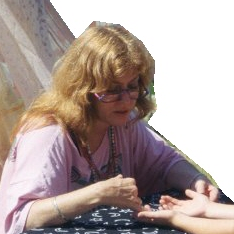 "The reading was beyond profound. Last night I dreamed of a card. A knight, kneeling on one knee. Upturned face, hands relaxed on the knee. A bright yellow shaft of light pouring into the upturned face.
I know who I am. Thank you for your light."
~ Joni L. (in person session, 1989)
"As you know from the lines that you attracted all weekend long, everyone enjoyed your readings. People came away impressed and thrilled with your ability to know about them simply by looking at their palms. You were a perfect addition to our opening night of festivities."

~ Debbie W. (family reunion - July 1992)

"Patti is a remarkable hand-reader with over 30 years of experience. She represents in my opinion the epitome of Western based hand analysis (character), and I believe her books (in working) will revolutionize the field of hand-reading. I have repeatedly witnessed her ability to discern the essence of one's character from the hand, including very accurate timing of events. She combines a rare blend of research and intuition, using tarot cards to augment her readings. Her research centers on embryonic hand development and the science of dermatoglyphics.

I have been collaborating and studying from Patti on a daily basis for over 6 years. She has demystified palmsitry for me by providing a rational framework based on our individual pattern of ridges and creases. This topography represents a mapping of nerve endings to our brains, and primarily depicts how we process information. In combination with handscape (hand shape, fingers, nails and different territories of the hand) it provides a very rich psychology."
~ Boaz (2015)